Events
Fish Fry Help
We could use help at the Fish Fry on Friday's during Lent. Come to the hall anytime between 1 p.m. and 9 p.m.
Major Degree
Our Major Degree is will be held in March. Be at the hall by 9:30 a.m. to register for First Degree that starts at 11 AM. Lunch to follow, with 2nd and 3rd Degrees starting at 1:30 pm or so. If your dues are paid up, it does not cost anything to become a Third Degree member. See our website calendar for date and more information.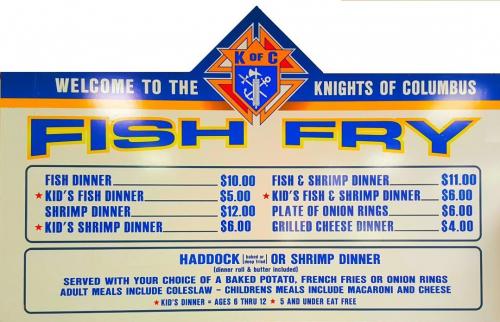 Fish Fry Fridays During Lent- Coming back in 2019!!!!
Hours - 4:30 p.m. to 7:30 p.m.
$10.00 / Plate for Haddock; $11 / Plate for Combo Meal; or $12 / Plate for Shrimp
Potatoes, Fries, Onion Rings, Cole Slaw, Roll, Ice Cream and Drinks provided
Kid's Meals Available
Drive Up & Take Out Available
Bingo -

Every

Tuesday Evening
7:30 p.m. to 9:30 p.m.
Start selling cards at 6:30 p.m.