Events
Bingo - Tuesday Evenings
7:30 p.m. to 9:30 p.m.
Start selling cards at 6:30 p.m.

No need to call- BINGO is EVERY Tuesday unless holiday or weather closing
(scheduled closing annoucements will be made at previous week's BINGO game)
Fish Fry Help
We could use help at the Fish Fry on Friday's during Lent. Come to the hall anytime between 1 p.m. and 9 p.m.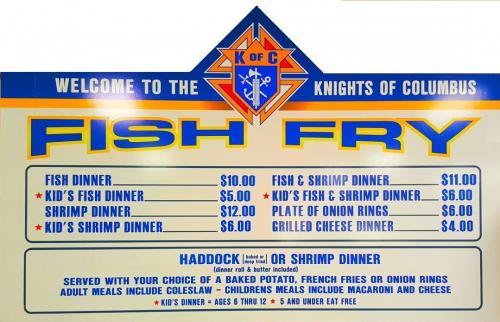 Fish Fry Fridays During Lent- Coming back in 2019!!!!
Hours - 4:30 p.m. to 7:30 p.m.
$10.00 / Plate for Haddock; $11 / Plate for Combo Meal; or $12 / Plate for Shrimp
Potatoes, Fries, Onion Rings, Cole Slaw, Roll, Ice Cream and Drinks provided
Kid's Meals Available
Drive Up & Take Out Available
Knights of Columbus Major Degree
Our Major Degree is will be held in March. Be at the hall by 9:30 a.m. to register for First Degree that starts at 11 AM. Lunch to follow, with 2nd and 3rd Degrees starting at 1:30 pm or so. A 4th Degree maybe scheduled as well on the following day. If your dues are paid up, it does not cost anything to become a Third Degree member. To become a 4th Degree it will cost annual dues. (normally around $15/year) See our website calendar for date and more information.